This is a past post from Magen's old blog, chronicling a trip taken in October of 2011. Excuse the poor writing style. She was still figuring out her groove.
Ashley and I both really love water, we decided to take one day (from our Disney World week) and do some kind of water activities. We decided to drive out to Crystal River (nearly a 2 hour drive) and swim with the manatees! This was a very early morning, since we had to be there at 9:00 AM. EEK!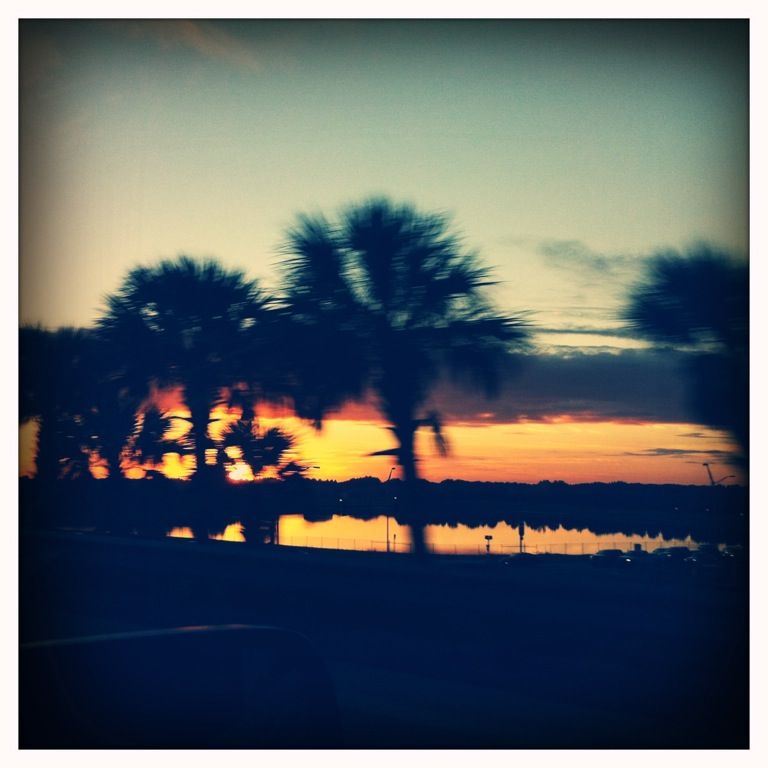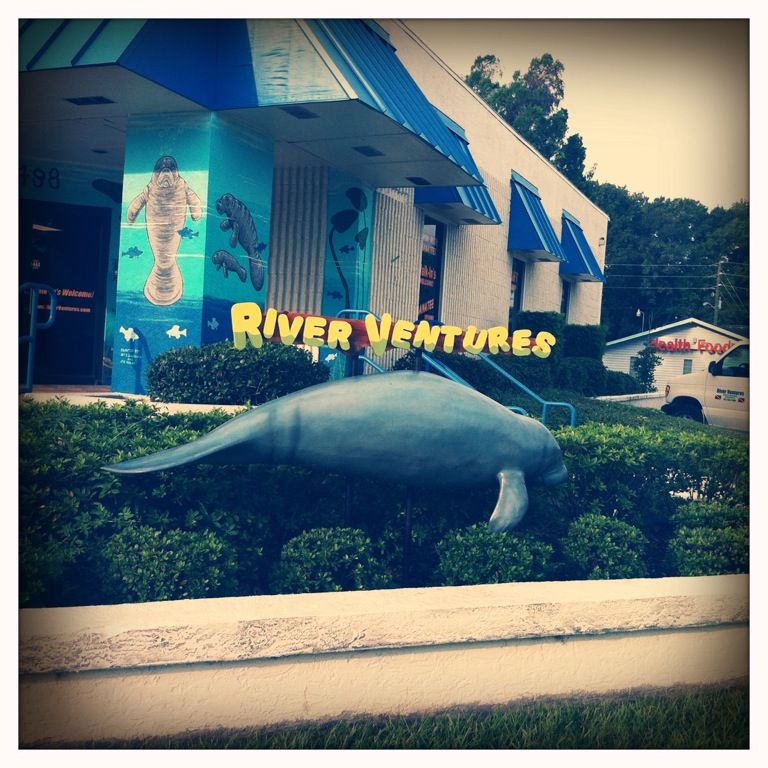 We arrived and got our wet suits and learned the manatee etiquette. The animals are very gentle and skiddish. The rules are: 1) Don't make sudden moves or noises, 2) hold your hand out and let the manatee come to you, 3) If a manatee comes towards you for interaction, stay stiff as a board so not to scare them.
We rode out to the dock and got on our boat with our captain. There were only four of us so we had a nice time asking questions and talking with the captain. He told us a lot of great information about the river, manatees, and other creatures we saw while searching for some of the big guys. We spotted one that was sleeping on the bottom, and viewed her for a few minutes before she woke up and swam off.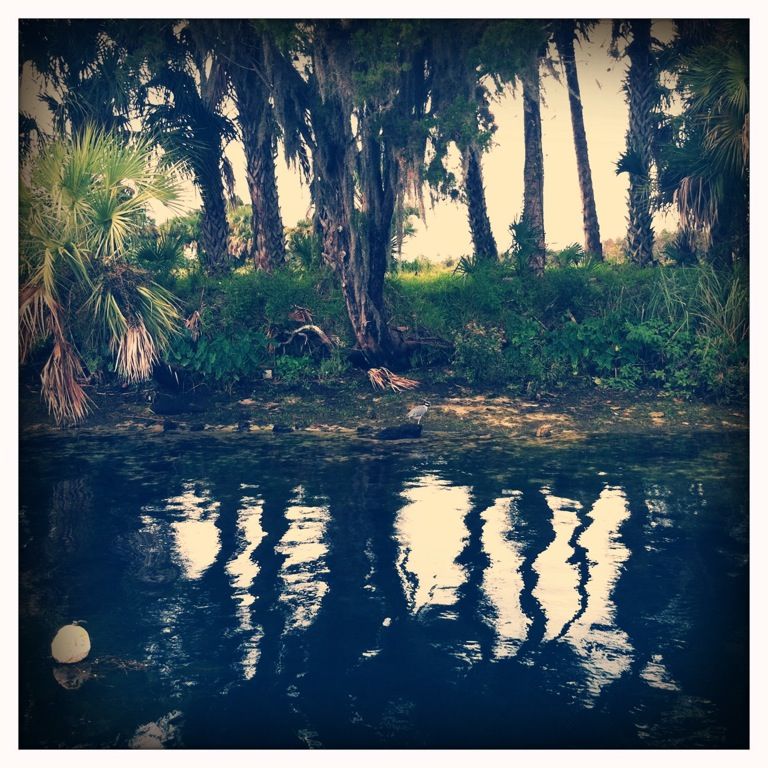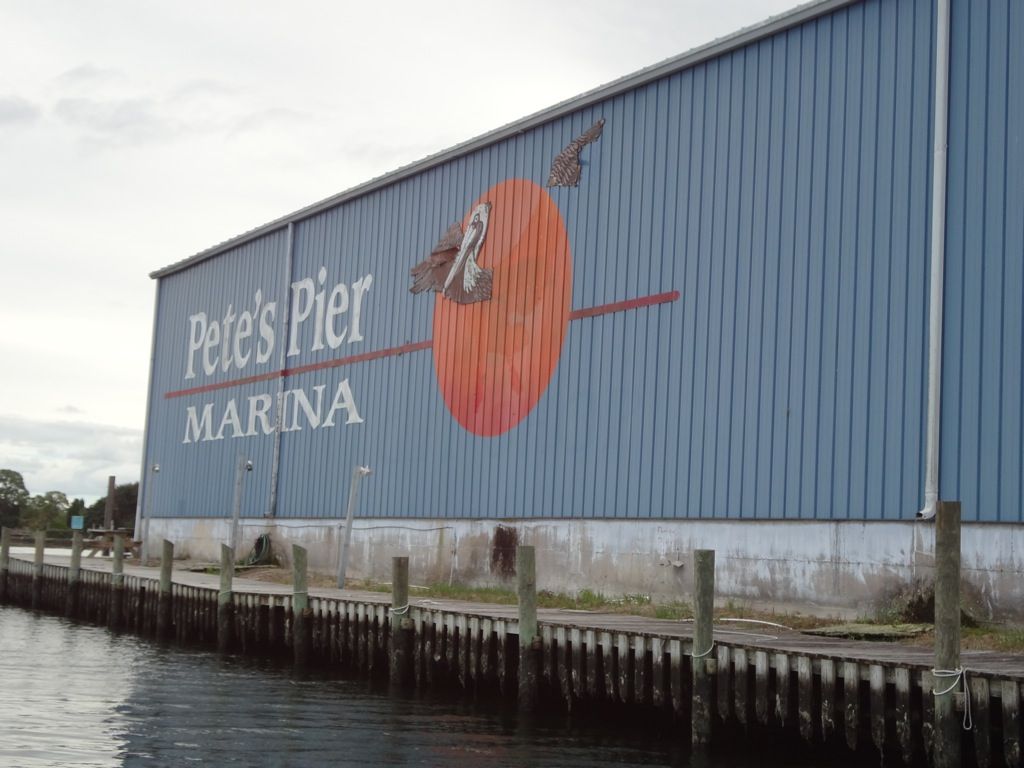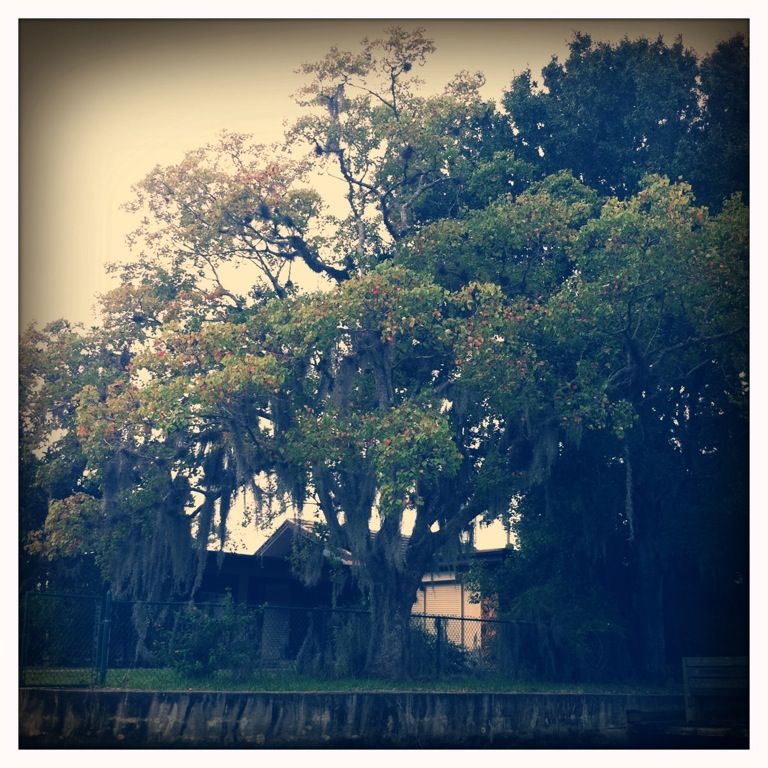 We drove around for a while and another boat called over and let us know that they had two large manatees and a baby that were interacting with their group. Since they were leaving, they invited us over. This area of the water was VERY cloudy (most areas were extremely clear.) It took us a while to even find the guys. I realized that I was right over the top of one when I finally spotted him. He was a big guy. I started to get nervous at this point.
We really wanted to see the baby, so we swam around for a while to find it. Before we saw the baby, we spotted the second big one (I assumed it was the mother.) Our guide stopped me and told me that she was there and to stick my hand out. I did so, thinking I would be rubbing her in a few minutes or so. Before I knew it (or could see her), the manatee was underneath my entire body and was "lifting" me up. This is when I kept one rule and broke another. a) I stayed stiff as a board (not intentionally, I just kind of froze), and b) I screamed. Luckily, she didn't get spooked at my scream. However, the guide did get a picture of me being slightly lifted out of the water. I really can't explain how big these things actually are. I mean seriously, she was probably me times five. After that, I was ready to get back in the boat. So was Ashley, so we let the other couple play and take pictures with the baby.
I don't think I would have been as scared if the water wasn't so cloudy in this area and I could see the monster sized softies headed towards me. Fun things like this don't normally scare me. I've swam with dolphins, bungee chaired (different from a jump, but still really exhilarating), "snuba"ed, jet skied in the ocean, and all kinds of things. I was really terrified this time! Not that I wouldn't do it again though :).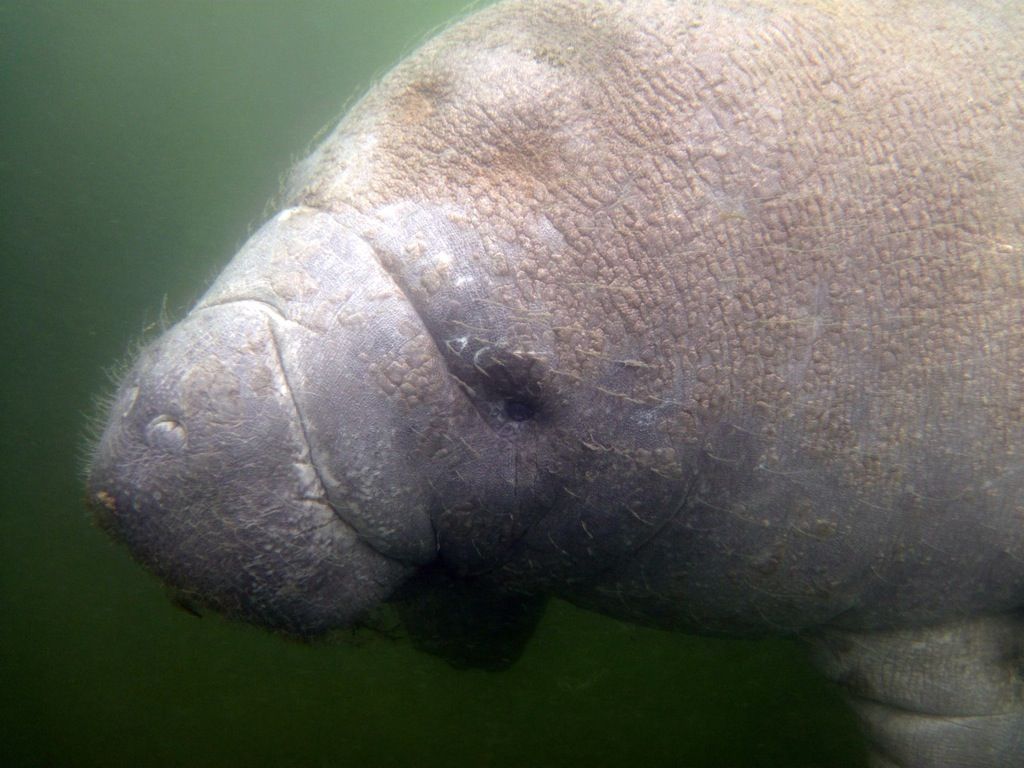 Yes, these photos are of the actual manatee that lifted me!
After we all climbed back in the boat, the tour guide wanted us to go to another area where the water is very clear and manatees sometime hang out. We anchored the boat and had to swim through a canal to get to the opening. The water was CRYSTAL clear!(Hence, Crystal River.) I've never been in water that clear. It was beautiful. There were no manatees, but we snorkeled and had a lot of fun. This was the best part of our day.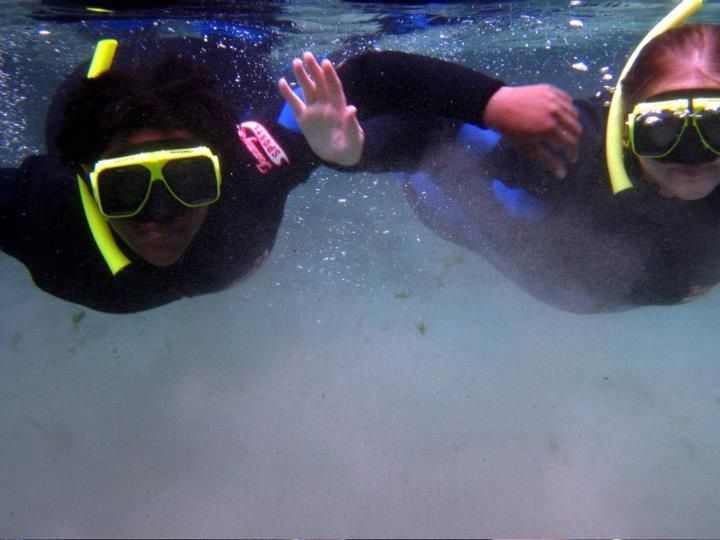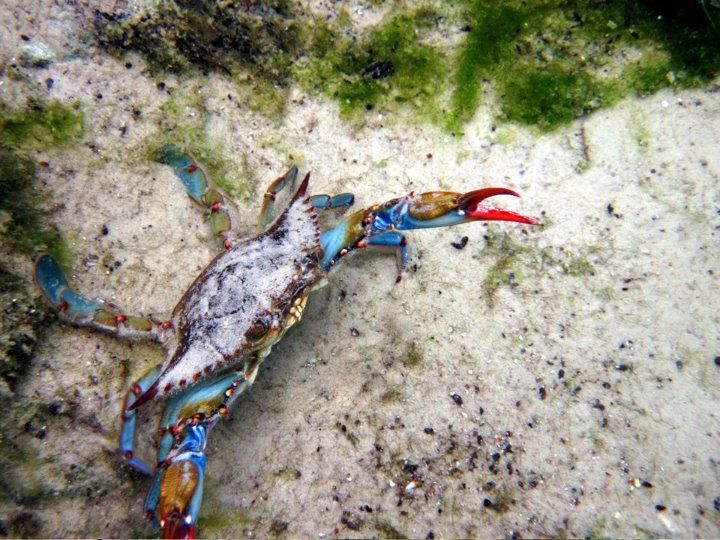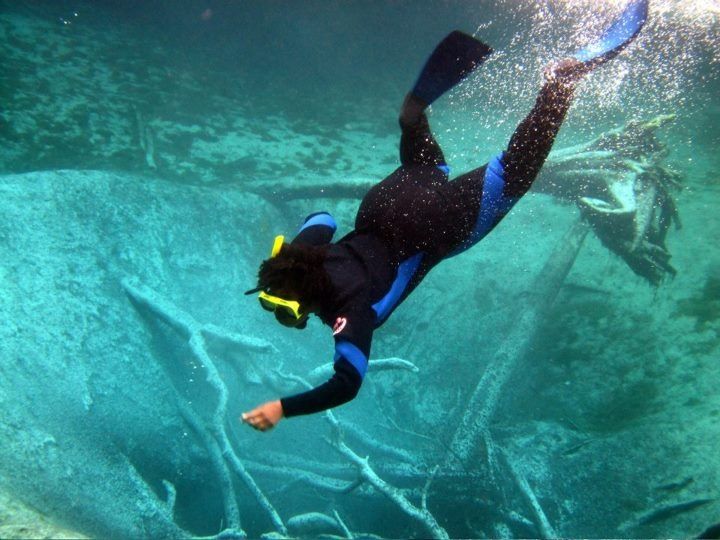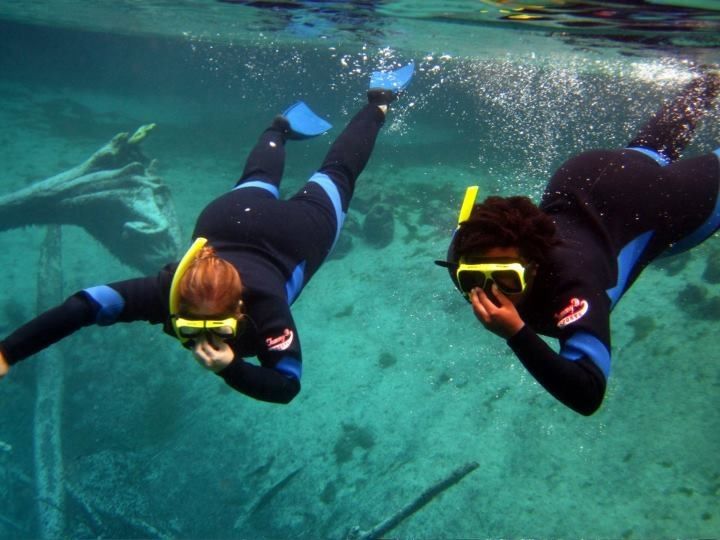 We made our way back to Disney for a fun night. Dinner was at Boma- Flavors of Africa in the Animal Kingdom Lodge. The Animal Kingdom Lodge was actually were I wanted to stay for our trip, but it is a deluxe resort and was out of our price range. I really wanted to visit it to check out the lobby and the grounds, so I decided to eat dinner there one night. The lobby and restaurant were beautiful. If I can say one thing about Disney- it's that they know details are important. Every nook and cranny of that place was African themed and beautiful. It was very different from the other resorts we'd visited on this trip. I had stayed at Wilderness Lodge on a previous trip with my family several years ago and it reminded me of it slightly because they both had an outdoorsy feel.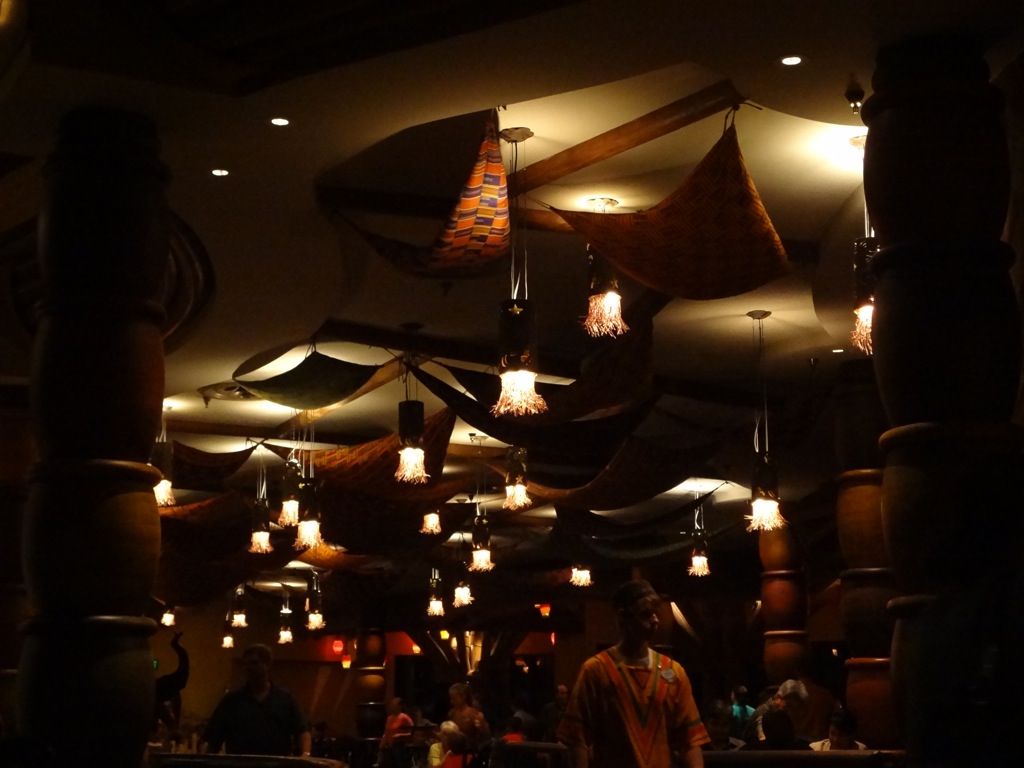 Boma is a buffet and had African and African-inspired dishes. I really like to eat at buffets when I'm trying new types of food. I do this because I can try small bits of everything and figure out which foods I like the best. Boma's choices were pretty good. I liked the meats a lot, and they had lots of different kinds of hummus (which I LOVE.) They had bite size deserts, which is perfect. I think ALL restaurants should have small deserts so you can try a few different kinds without eating a pound of rich food and feeling terrible afterwards.
After dinner, we drove over to Downtown Disney to the late Cirque de Soleil- La Nouba show. I won't go into much detail here. Mostly because there is just too much detail to go into. I'll just say that if you can afford the ticket prices, and you have the time, don't miss this show. It was really great and it didn't look like there was a bad seat in the house.
After the show, we walked around Downtown Disney for just a few minutes to see what they had. Most things were starting to close since it was nearly 11:00 PM, but we managed to go into a few cool places. They had fun art and candy shops. But of course, Disney always have fun and cool shops. I wish we had more time to explore Downtown Disney further. I haven't been there in many many years. Next time!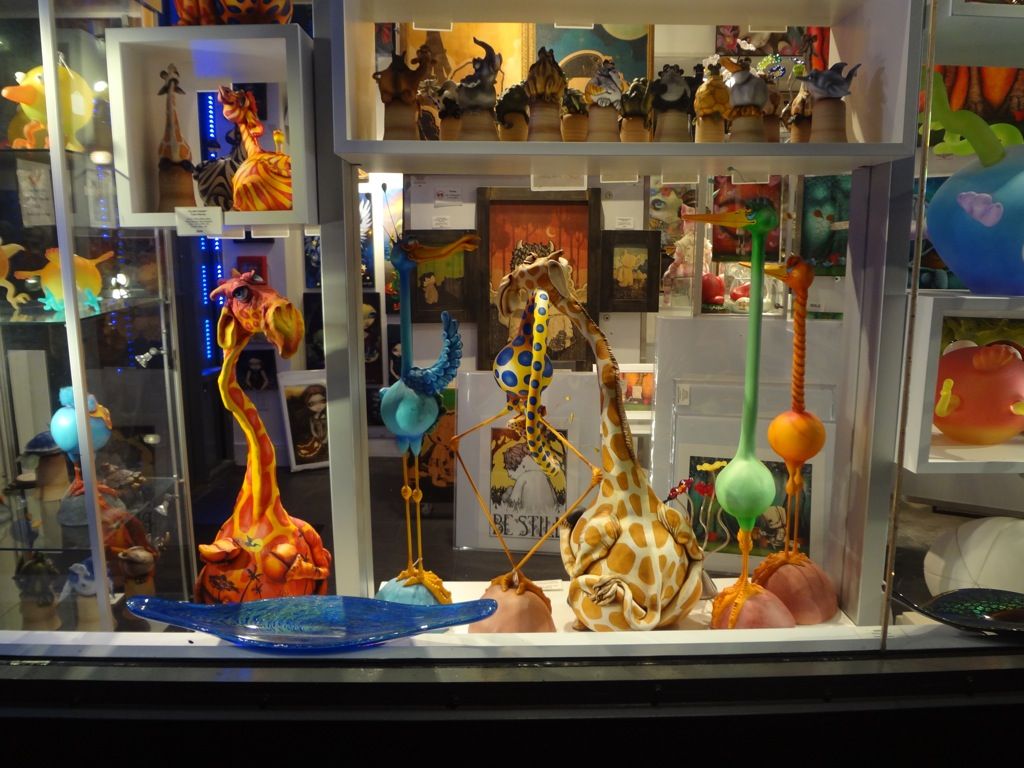 P.S. All underwater photos were taken by our tour guide/captain at
River Ventures.
I highly recommend this tour company if you're interested. They were extremely helpful and so so nice. The price was great compared to others and they really want you to have a good experience.
Food Recommendations
Boma- Flavors of Africa | Animal Kingdom Lodge, Disney World, FL (Dinner)
Attraction Recommendations
River Ventures
| Crystal River, FL
Cirque de Soleil La Nouba | Downtown Disney, Disney World, FL